POSTER PRESENTATION COMPETITION
7th – 8th November 2023
4th Annual Patient Experience Excellence Congress is delighted to invite healthcare professionals to participate in the poster competition, which will be conducted onsite – on the days of the congress.
PARTICIPANTS HAVE BEEN INFORMED ON EMAIL, CONFIRMING THEIR SELECTION.
Applicants who have not yet received an email, kindly reply to email to learn your application status.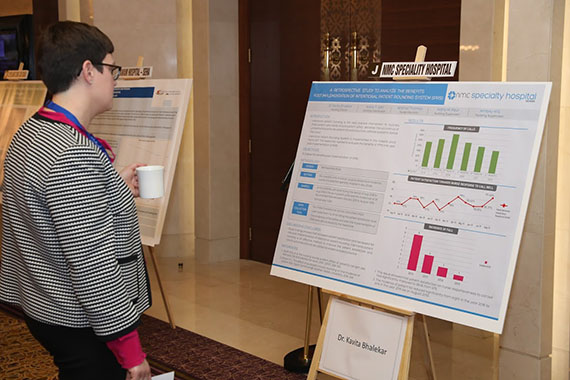 MISSION

The mission of the Poster Presentation, is to distinguish, celebrate and support the impressive work that is done by caregivers to enhance the quality care, patient experience and safety.

Showcase and share your organization's experiences/objectives/initiatives illustrating remarkable patient experience improvement with measurable outcomes

SUBMISSION

Deadline to Submit Abstract

11th September 2023
Post Abstract Submission, application will be processed and registered.

Information on specification of final Poster Boards will be intimated closer to the event.

AWARD AND RECOGNITION

Registered and confirmed Posters will be displayed onsite on the Congress days – 7th – 8th November 2023

The Jury will select TOP 3
Posters, who will be
awarded.
Poster Sessions are graphic presentations visually highlighting proven practices, sharing successful ideas, offering problem-solving solutions or explaining an innovative program. It illustrates your key points, findings and outcomes in graphics, photos, and diagrams using a small amount of text.
Poster Session submissions are accepted in the following categories:
General – representing general patient experience research or proven practices
Patient Partnerships – highlighting projects that were joint efforts of healthcare professionals and patients/families
If you have an interesting case-study, an initiative or program implemented at your workplace with measurable outcomes achieved – do submit your abstract for us to review.
Kindly submit abstract keeping the below key points:
Precise TITLE of the Abstract
Abstract body should not be more than 250 – 300 words.
Abstract MUST consist of
– Introduction
– Objectives
– Methodology
– Methodology
– Conclusion
Specific keyword, Bibliography, Surveys, Analytics that assist the abstract (if any) should be attached
Topics That can be Covered:
High Reliability: Culture & Leadership
Resilience
Caregiver Engagement & Wellbeing
Patient Advocacy & Empowerment
Design Thinking & Co-Creation
Patient-Centered Care
Compassion & Action: Healing Growth
Patient Safety & Quality
Innovations in Care Setting & Caring
Digital Tools as PX Accelerators
Telemedicine Advancements
GET ALL YOUR QUERIES ANSWERED
What will be learned as a result of attending your session?
Submissions should include a clear description and learning objectives. Anyone reading your submission should have a solid understanding of the information that will be shared and what learning outcomes will be achieved. Consider why this information is important and how others can use it.
Who is your Target Audience?
Provide a clear understanding of who will benefit most from your session (such as care setting and professional role/position).What is the development level your session is geared toward (beginner, intermediate or advanced learner)?We are seeking a variety of content reflecting different care settings (some examples include acute care, ambulatory care, home care, hospice care, long term care, outpatient care, pediatric/children, physician practice/office setting and transitional care) and development levels.
What outcomes or impact were realized?
Sessions should include stories/case studies of how your facility or organization has made marked improvements sharing lessons learned, new strategies and practices identified. Sessions are focused on sharing ideas, practical tools, the process necessary and resources with measurable outcomes illustrating patient experience improvement.
What is the practical story this session shares?
Sessions should engage participants in the ideas you want to share, the learning objectives you offer and the potential takeaways you provide.
POINTS TO BE NOTED:
Event Orgaziners wil be providing the Easel Stand and inform you about the size/specification of the poster prior to the event to all confirmed presenters.
Presenters will be responsible for all displaying materials and handouts.
Online/digital assistance is not provided in the poster display area
PX Congress is not accountable for any print, material collection or delivery of the poster.
FOR ANY FURTHER INFORMATION ABOUT THE POSTER PRESENTATION COMPETITION
CONTACT US
Mohor Mukherjee
E: mohor.mukherjee@biiworld.ae | M +971 050 6353411 | Whatsapp: +44 1214683187