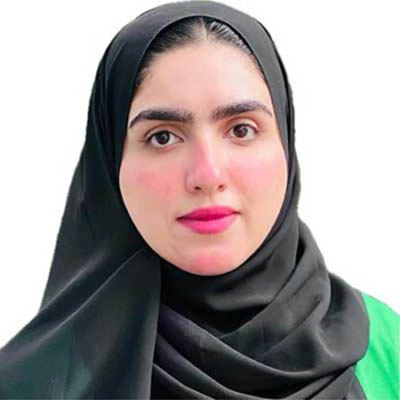 Dr. Abeer Abdullah Saif Al-Maamari
Director of Patient's and Client's services
Ministry Of Health, Oman
Abeer Abdullah Saif Al-Maamari is a highly accomplished professional with a vast expertise in patient's and client's services. As the Director of Patient's and Client's Services, Abeer brings a wealth of knowledge and experience in medical law and ethics.
Abeer has made significant contributions throughout her career, serving as the Head of the Medical Liability Section.
To further enhance her skills and qualifications, Abeer obtained a Master's degree in Medical Law and Ethics from the University of Kent, solidifying her strong foundation in the subject matter.
With a passion for bioethics, Abeer serves as a valuable member of the scientific committee of the National Bioethics Committee. Her contributions to the technical committee for malpractice cases demonstrate her commitment to promoting fair and just outcomes in healthcare settings.
Additionally, Abeer actively contributes to the development of a national strategy of patient experience, underscoring her dedication to improving the quality and satisfaction of patient care. She also serves as a lecturer in medical law and ethics for family medicine residents, sharing her expertise and fostering the growth of future healthcare professionals.
Abeer's vast experience has also extended to her participation in formulating laws, legislations, regulations, and policies related to the medical field. Her insights and contributions play a significant role in shaping the healthcare landscape, ensuring that the rights and well-being of both patients and healthcare providers are protected.